~*~*~*~DR. ZAK'S HOLIDAY CONTEST 2018~*~*~*~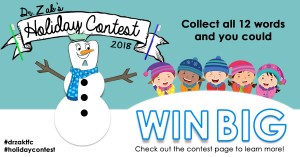 Are you ready to play?! Dr. Zak's 2018 Holiday Contest is here –
Each week between now and the end of December, we will post a new word to our Facebook page. Collect all 12 and you will have a chance at winning a $100 Amazon gift card. It's our biggest contest yet!!!!!
Here's how:
All children, or as we like to call them, the "royal Prince and Princess's of The Tooth Fairy Castle" who have their bright smiles made brighter by Dr. Zakarija can follow us on Facebook and collect all 12 words during the contest period.
Contest starts the week of November 5, 2018. Last week of contest: week of December 31st.
Entries must include all 12 words from the contest to be considered for the official drawing.
Entries can be sent in via email to: drzaktfc@gmail.com by Wednesday, January 2, 2019. 
Winner will be announced on our website on Friday, January 4, 2019 and will receive one $100 Amazon giftcard that can be picked up at the Tooth Fairy Castle during normal business hours the following week.
Good luck everyone!
– Dr. Zak's Tooth Fairy Castle                                          


WEEK FIVE:
*Words for contest entry will appear on website for that week only. Once the next word gets posted, the previous one will disappear, so make sure you're writing them down!!