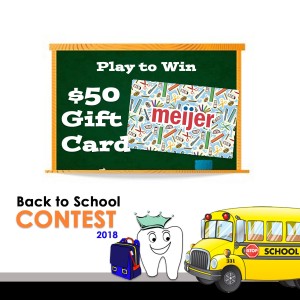 Back to School Contest 2018
Follow along by collecting school supplies or "Words of the Week" (WOW) by visiting us on Facebook, Twitter and right here at drzakstoothfairycastle.com starting Monday, July 30th, and you could be one of two winners who will receive a $50 gift card to Meijer to fill your book bags and lockers with the coolest supplies for the 2018 – 2019 school year! 
Here's How:
Be on the look out for the "Words of the Week" by going on an online scavenger hunt. We will post the words on one of our sites: Facebook, Twitter, Contest Page right here on our Website.
Be sure and write them down in a safe place! At the end of each week we will take down the WOW (Words of the Week), and post the new ones. Check often so you do not miss them!
There will be a total of 6 words collected for this contest.
The last word will be posted on Thursday, August 23rd.
Entries can then be submitted to our e-mail: drzaktfc.com starting Thursday, August 23rd. All entries must be sent in by Saturday, August 25th.
NOTE: Winners must have all 6 WOW collected to be eligible to win. Two lucky winners will each get a $50 gift card to Meijer stores to purchase school supplies.
Winners will be announced on Monday morning, August 27th, 2018 on our Facebook page. So be sure to tune in then for the big announcement!!!!
Be sure you find us on Facebook "Dr. Zak's Tooth Fairy Castle" @drzakstoothfaircastle – and – Twitter @DoctorZakTFC
Good luck everyone!