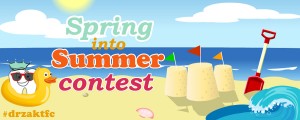 Spring into Summer Contest 2018
Thank you for visiting our castle online to check out the newest contest. Dr. Zak and all of us at the Tooth Fairy Castle want to make a splash on your Summer and we will be giving away two Summer passes to Magic Waters!
Here' s how the contest will work:
Starting Monday, April 2nd, 2018 on our Facebook page, we will be posting a "Word of the Week". The way to play is to keep track of the word each week by writing it down somewhere safe, and at the end of the contest, you will submit your answers to us via Facebook messenger on Wednesday, May 23rd.
Winners will be announced on Friday, May 25th, 2018!
RULES:
You must have all words of the week, in the correct order to play. Anyone who is missing a word of the week will not be eligible to win. The "Word of the Week" will only be posted to our Facebook page, so be sure to check back often! Each week the word will be posted to our feed through Saturday, and will then be taken down, for the next word to be posted the following week.
PRIZE:
Two winners will be selected based on their ability to correctly identify all 8 words. The prize is a 2018 Summer Pass to Magic Waters in Rockford, Illinois.
This pass includes more than $80 worth of perks for use at the waterpark:
(2) bring-a-friend admissions
(2) pool admissions
(2) tube rentals
(2) $3 off a combo meal coupons
(1) $5 off a shade chalet coupons
Passholder exclusive events
20% off gift shop purchases
The first time you arrive at the waterpark, bonus coupons will be available for pick-up at Guest Services.
Once the winners are announced on Friday, May 25th, 2018, the passes can be picked up the following week during normal business hours at the Tooth Fairy Castle.
Sounds easy enough, right? Spring into Summer and you just might win! Good Luck!!!!